COHERIX'S PREDATOR3D™ IS 'CONNECTING THE DOTS!' —— DotMaster™ and ShapeEye™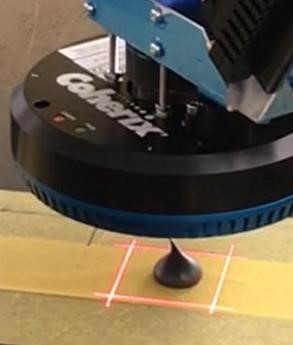 Ann Arbor, Michigan, July 17, 2019 – Coherix, Inc. a global leader in Three-Dimensional (3D) Machine Vision is pleased to announce DotMaster™, and ShapeEye™ – the new tools for its Predator3D Dispensing System Process Control Solution.  DotMaster™ and ShapeEye™  improve process quality by ensuring critical dispensed mastic dots are within all user defined tolerances!
ShapeEye™   is an easy to use online software tool for inspecting the size and shape of all sized mastic dots.  It can be used with any Predator3D sensor.   DotMaster™ is a specialized Predator3D sensor designed to inspect mastic dots over 20 millimeters in diameter. DotMaster™ can also be used on dispensed beads, but only if the trailing laser is maintained perpendicular to the bead.
Coherix's Predator3D Dispensing Process Control Solution is the most advanced on the market – it is a rugged, reliable, and completely self-contained for on-the-fly 3D measurements and continuous process control insuring bead quality, without impacting production throughput.      

Predator3D™ with ShapeEye™ software calculates the diameter and area at multiple  user specified mastic dot height.
"We are pleased to announce  DotMaster™ and ShapeEye™.  Connecting the dots by using our state-of-the art technology makes us the most advanced dispensing process control solution on the market.  We are number 1 in the eyes of our customers with ShapeEye™ and DotMaster™," said Dwight Carlson, CEO and Chairman of Coherix.
About Coherix, Inc.
Coherix, Inc. develops and manufactures high-speed, high-definition 3D machine vision solutions that enable our customers to manage high-volume precision manufacturing processes. Coherix solutions are designed for process control and error-proofing in the automotive, semiconductor, and electronics industries. Coherix is committed to producing the highest performing 3D machine vision products at the lowest Total Cost of Ownership. Coherix customers include global end users, first tier suppliers, global line builders, machine vision systems integrators and global dispensing companies, who demand 100 percent reliability that Coherix products provide. Headquartered in Ann Arbor, Michigan, the company has operations in the United States, China, Germany, Singapore, and Japan.