Case Study: Glass Manufacturer Improves Quality While Reducing Cost with Coherix
Learn how one of the largest glassmakers in America improved quality while reducing cost with PrimerMaster Pro and LocationMaster!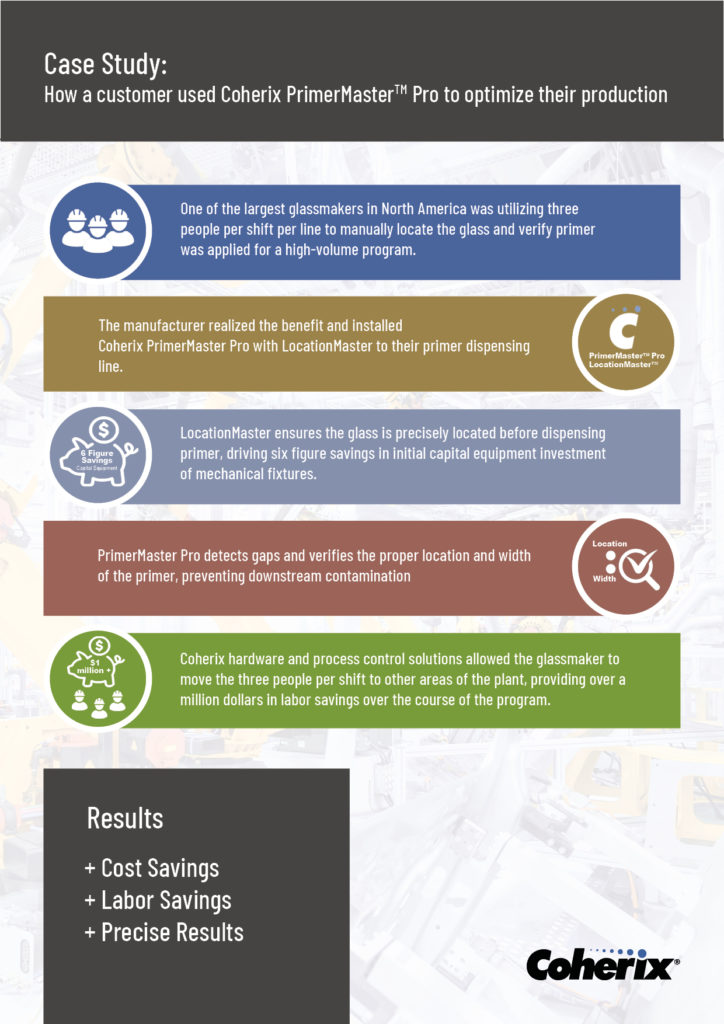 One of the largest glass manufacturers in North America was utilizing three people per shift per line to manually locate the glass and verify primer was applied for a high-volume automotive OEM program.
The manufacturer realized the benefit and installed Coherix PrimerMaster Pro with LocationMaster on their primer dispenser.
LocationMaster ensures the glass is precisely located before dispensing primer, driving six figure savings in initial capital equipment investment of mechanical fixtures.
PrimerMaster Pro verifies the proper location and width of the primer, preventing downstream contamination.
Coherix hardware and process control solutions allowed the glassmaker to move the three people per shift to other areas of the plant, providing over a million dollars in labor savings over the course of the program.
View more case studies and machine vision resources
Download PrimerMaster Pro brochure
Download LocationMaster brochure
Learn more about Coherix solutions to improve your manufacturing process