Coherix Launches Predator3D™ GlassMaster™ For Glass Urethane Inspection and Process Control
Ann Arbor, Michigan, Dec 17, 2018 — Coherix, Inc., a global leader in 3D Machine Vision, today announced the official release of Predator3D GlassMaster to help automotive industry better control glass urethane bead dispensing process.
Auto makers are using an increasing amount of urethane to assemble glass onto vehicle frame, which is vital to vehicles' structural rigidity and preventing any possible water leakage. Coherix Predator3D GlassMaster ensures the proper volume is dispensed at correct location, real-time with no penalty to the cycle time.
Predator3D GlassMaster is a cutting-edge bead inspection system specifically designed to monitor and control the high-profile triangular urethane bead dispensing process in automotive final assembly, where no other technologies have proven to be a reliable solution.  Predator3D acquires 3D profile of the bead 400 times a second to inspect bead size, volume, and location, and detects any skip or neck-down on-the-fly.
Predator3D GlassMaster Z-tracking capability reduces process variation by enabling the robot to adjust Z height real-time to compensate for part surface shape variation during dispensing. This is extremely valuable for glass application, where a shape variation up to ±4 mm is not uncommon. This variation, if not compensated well enough during dispensing, could lead to either robot break-through the glass or incorrect profile of the bead for a potential leakage.
Predator3D GlassMaster distinguishes itself that its bead inspection is not affected by part color or ambient lighting changes, providing robust operation even in "black-on-black" or "gray-on-gray" situations where 2D techniques fail.  Predator3D GlassMaster have been in production implementation at major automotive OEMs and Tier 1s, and proved to be reliable and rugged in the manufacturing process.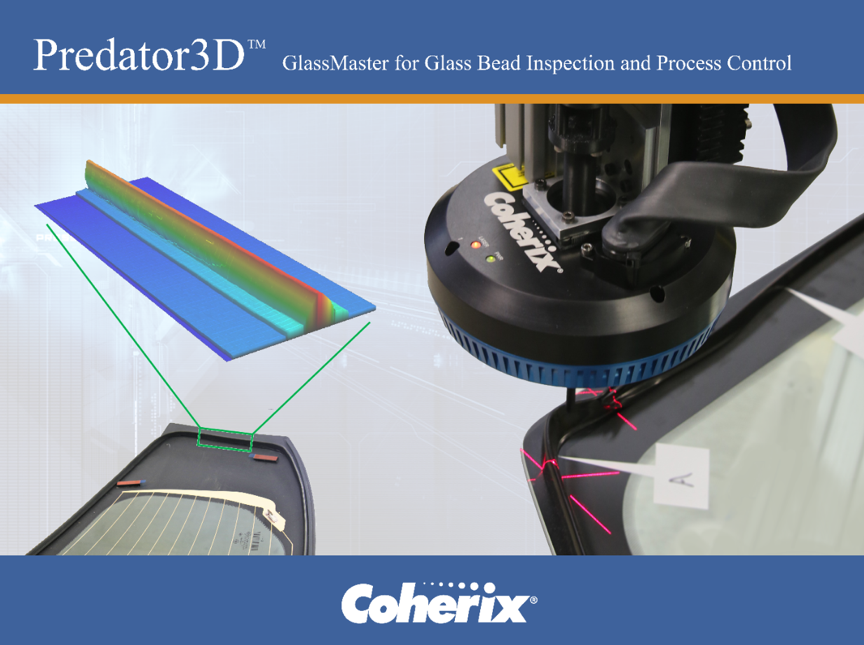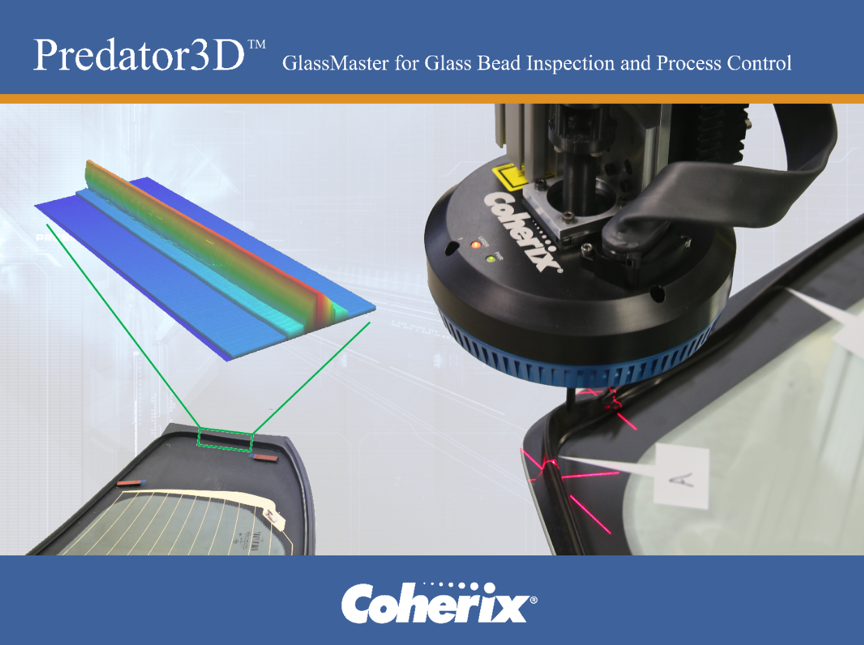 "Industry is finally getting the reliability they need with Coherix GlassMaster robust 3D solutions. The difficult auto error-proofing problems we are solving today are decades old. Previously they could not be solved; however, today with Coherix GlassMaster, they can." said Dwight Carlson, CEO and Chairman of Coherix.
About Coherix, Inc. 
Coherix, Inc. develops and manufactures high-speed, high-definition 3D machine vision products that enable our customers to manage high-volume precision manufacturing processes. Coherix products are designed for inspection and error-proofing in the automotive, semiconductor, and electronics industries. Coherix is committed to producing the highest performing 3D machine vision products at the lowest Total Cost of Ownership. Coherix customers and partners include global end users, system integrators, and distributors, who demand 100 percent reliability from Coherix products. Headquartered in Ann Arbor, Michigan, the company has offices in the United States, China, Germany, Singapore, and Japan.