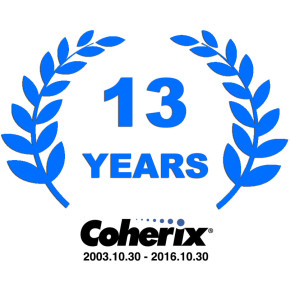 Ann Arbor, Michigan, October 31, 2016 – Coherix, Inc., a global leader in Three-Dimensional (3D) Machine Vision, today hosted a celebration for the company's thirteenth anniversary.
"This is an exciting time for Coherix and every team member. I'm proud to see Coherix has remained strong through the hard economic times since 2008, and the achievements we made in recent years," said Dwight Carlson, CEO and Chairman of Coherix, in his toast to the whole team. "Looking forward, I'm confident of an outstanding year ahead and an IPO in the future."
Founded on October 30, 2003, Coherix has grown into an industry leader in supplying high-speed, high-definition error proofing solutions to customers over the 13 years. The past year was a fulfilling year for Coherix, as the company introduced two major product lines: Predator3D™, which is the most advanced adhesive and sealant bead inspection system, and Robust3D™ error proofing for assembly verification. The company also established its China Joint Venture and Germany GmbH last year.
Currently, Coherix serves the automotive, semiconductor, electronics and general manufacturing industries with three major product lines: Predator3D, Robust3D, and ShaPix3D® (measurement of critical mating surfaces). It is aggressively expanding its global footprint to provide support to customers around the world.
About Coherix, Inc.
Coherix, Inc. develops and manufactures high-speed, high-definition 3D machine vision products that enable our customers to manage high-volume precision manufacturing processes. Coherix products are designed for inspection and error-proofing in the automotive, semiconductor, and electronics industries. Coherix is committed to producing the highest performing 3D machine vision products at the lowest Total Cost of Ownership. Coherix customers and partners include global end users, system integrators, and distributors, who demand 100 percent reliability that Coherix products provide. Headquartered in Ann Arbor, Michigan, the company has offices in the United States, China, Germany, Singapore, and Japan.
October 31, 2016