All-In-One 3D Inspection Module
The Saber3D Series is the latest major advancement from Coherix for semiconductor inspection and metrology. Coherix provides high-speed, in-line inspection products for the electronics and semiconductor industries, eliminating the need for handlers to stop the assembly process for inspection. This solution streamlines the process, increases throughput and enhances accuracy.
Saber3D measures semiconductor packages optically on-the-fly. This high definition vision system performs 3D measurements with package-quality inspection options and processes them internally without the need for external computing resources. Saber3D incorporates a state-of-the-art LED lighting system with multiple cameras similar to the 3DX.
The image processing is carried out by Coherix i-Cite software, providing a wide range of tools for better process control and yield optimization. This total package creates the most compact, advanced and cost-effective 3D inspection solution available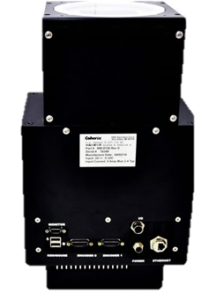 Features
3D high-definition, multi-camera triangulation technology
Snapshot area measurements – no lasers, no line scanning
Multi-spectral LED strobe lighting
Simultaneous multi-part and ROI capability increases throughput
Latest configuration of leaded, BGA and QFN package styles supported
No hardware change-over required between package types
No external computing resources required
Technical Specifications
FOV: 35 mm x 35 mm
Camera resolution: 4 MP
Multi-part inspection: Yes
Exposure time: 50 μs
Image trigger: XY dual internal strobe
Inspection motion: Variable to 150 mm/sec
Region of interest: User configurable – full range
Illumination: Solid state LED w/ internal strode control
Module weight: 6.5 kg (14.3 lbs)
Power consumption: 60 watts @24 VDC